POS Example Gallery – Page 1
We've installed hundreds of terminals for satisfied customers throughout Central Florida.
You can CONTACT US NOW for free information from one of our sales reps about a powerful, easy to use POS system for your business.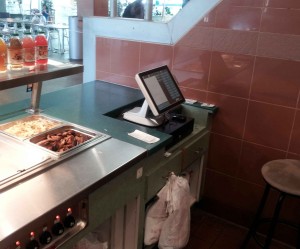 Here is a POS example gallery. It includes Point of Sale systems we've installed for customers right here in Central Florida.
The first few pics show: 1.) a merchant in a mall food court, 2.) one of many server stations at a large bar, and 3.) a small consignment store.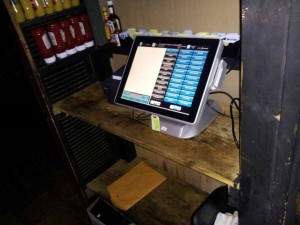 Many merchants start with only one POS terminal and add more later. Other, more established businesses will start with a six to ten or more terminals.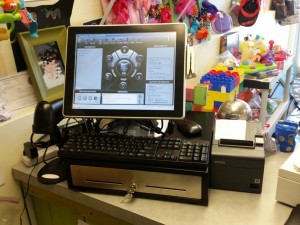 Although a cash drawer is included with each terminal, restaurants with multiple terminals will often use only one or two. Instead, the serving staff will often carry their own 'bank' and settle up with the restaurant at the end of the shift.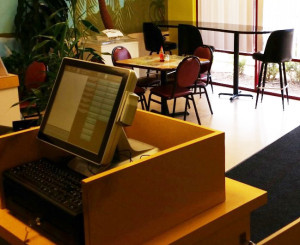 While restaurants might not typically use bar codes, retail merchants can use handheld scanners to quickly ring up items at checkout. Pin pads might be used to allow the customer to enter their pin for debit transactions. Scales can be implemented to weigh things like yogurt or deli items.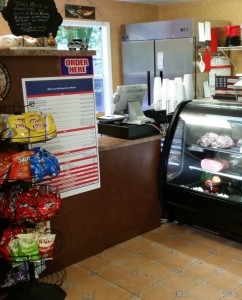 These systems are a great solution for smaller shops that might have only used an electronic cash register until now since most small shops don't have a lot of extra cash to invest into new computers. Because the systems can be leased, the cost to get systems in place is minimal. As the business grows, additional terminals can be added. The systems can grow to handle even the largest restaurants.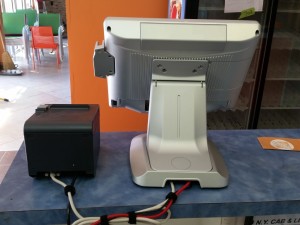 And lastly, on the left is the back of a common POS terminal. It has wires connecting it to the network and to its own dedicated receipt printer. This picture shows a power cable for the receipt printer, but some of the newer models draw their power from the terminal itself using a USB cable.
Click Here to see another page of Sample POS Pics.